After obtaining a warrant to search the infamous "Tiger Temple" in Thailand, authorities announced Wednesday the grimly discovery of 40 dead tiger cubs, body parts, and other organs all stored in an on site freezer. The temple, which serves as an "animal sanctuary", opened in 1994 and has been a booming tourist hot spot ever since. The original mission of the grounds was to provide animals with a safe place to live while allowing members of the public to come, see, pet and interact with these exotic cats.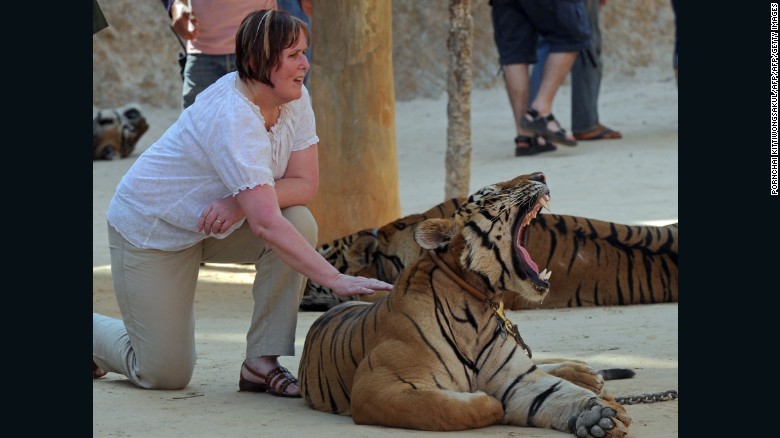 However, the temple has also received international criticism from several wildlife activist organizations. In 2005, under heavy public pressure, the facility was investigated for animal mistreatment and illegal trafficking. Though they were later cleared of these charges, they were charged for the illegal possession of 38 protected bird species.
As of May 2016, Thai authorities opened up a second investigation into the facility and have promised to close it down. Authorities have already conducted a series of raids at the Temple with the hope of eventually removing all the animals in captivity there. On their decision to close the facility once and for all, Thai authorities said the Associated Press "The temple, a popular tourist attraction, has been criticized by animal rights activists because of allegations it is not properly set up to care for the animals and flouted regulations restricting the trade of tigers,the monks resisted previous efforts to take away the tigers, but relented this week after police obtained a court order."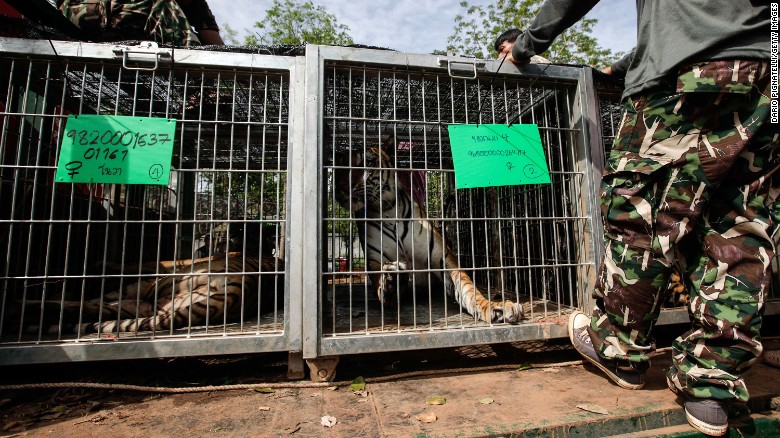 The effort is led by over 2,000 personnel including veterinarians, WCO civil servants, provisional police and local military, and aims to safely relocate all the animals to the Ratchburi Province. Admittedly, the effort has been much harder than anticipated and to date, just 40 of the 137 Tigers in captivity have been rescued. As for why they are having all the trouble?
Apparently word of the raid reached the temple before police could arrive, so Temple workers released as many tigers as they could, making it harder and more dangerous for authorities to catch them. Upon showing up to the Temple, director for the World Conservation Organization, Teunjai Noochdumrong, described the scene as "mayhem" going on to add that"when our vet team arrived, there were tigers roaming around everywhere."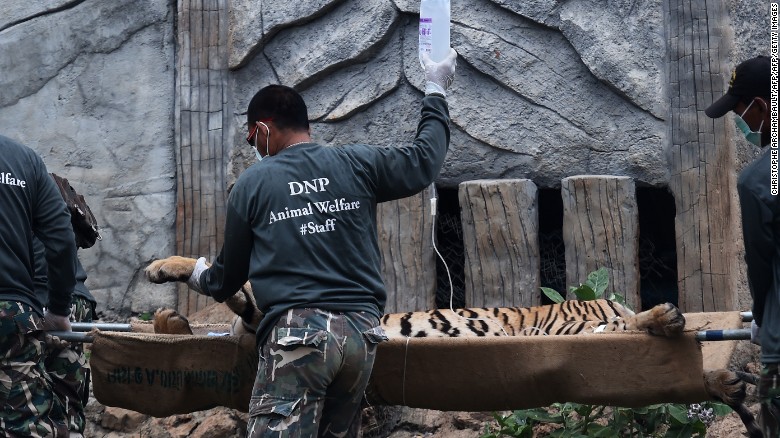 The monks in charge of the temple deny any wrongdoing, adamant that they have never engaged in the trafficking of any animals. Monks say they saved the bodies of the dead tiger cubs to prove that no animals went missing from the facility, to serve as proof the temple never profit from the loss or sale of a Tiger – which could otherwise catch thousands of dollars on the black market.
In response to the plethora of dead tigers authorities found at the temple, they released the following statement: "As happens in life, cubs do occasionally die for various reasons, most often when a new mother lacks the experience to properly care for them. In the past, as per Buddhist customs, these tiger cubs were cremated. In 2010, the ex-vet of Tiger Temple changed this policy. Instead of cremation, the deceased cubs were preserved in jars or kept frozen. We have documented all the deaths from 2010 and have photographic evidence of them still being within the Temple."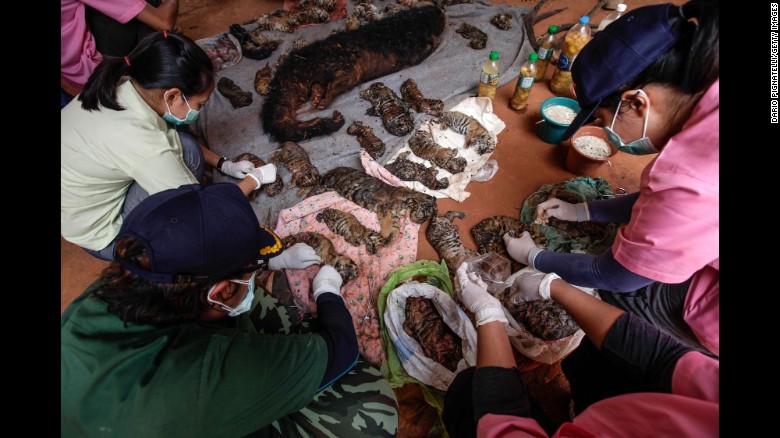 In response to the news coming out of Thailand, the World Wildlife Foundation "applauds the removal of Tigers from Tiger Temple and encourages Thai Government to permanently bar the Temple from keeping Tigers."
Source: NPR, The Bangkok Post, World Wildlife Foundation, Reuters
Pictures: CNN
---
You want to support Anonymous Independent & Investigative News? Please, follow us on Twitter: Follow @AnonymousNewsHQ
---
This article (40 Dead Tiger Cubs Found In Freezer At Buddhist Temple) is a free and open source. You have permission to republish this article using a creative commons license with attribution to the author and AnonHQ. Join the conversations at www.anonboards.com